Past IEM Features tagged: usdm
---
15 Dec 2017 05:35 AM
The weekly US Drought Monitor was released yesterday and depicts a worsening drought situation in the state. While heavy rains frequented the state in October, we have turned very dry again. The featured chart presents the combination of trailing day precipitation departures expressed in terms of standard deviations from long term averages for Osceola (just south of Des Moines). The shaded areas represent the US Drought Monitor conditions analyzed for the location. This area was particularly hard hit this year and while the heavy rains in October did remove the D3 category, the area has remained in D2 since. There is no one magic metric that determines the drought category, but a number of metrics are considered and local reported impacts.
Voting:
Good: 14
Bad: 3
Abstain: 3
Tags: usdm
---
25 Jul 2017 05:32 AM
The publication of the US Drought Monitor update for this week is currently in progress. It considers the precipitation that has fallen up to Tuesday morning of each week and is released on Thursday. The featured map displays the combination of the current drought monitor issued last week and the seven days of precipitation that roughly fell since its issuance. The hatched areas on the map are the drought monitor categories. In general, there was little help for the rain that did fall last week for the driest areas of the state. Some localized dry places did pick up an inch or two, but that amount of water only meets current intensive crop demands. The most significant and flooding rains fell almost completely away from the dry areas.
Voting:
Good: 21
Bad: 0
Tags: usdm
---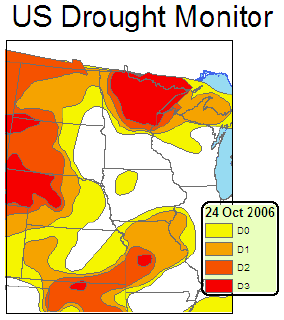 27 Oct 2006 12:25 AM
You don't have to drive very far from Iowa to find areas with significant precipitation deficits. "D3" classified drought areas are currently depicted in Central Missoura, Western Nebraska, and Northern Minnesota. Only extreme portions of SE Iowa are depicted with any dry conditions. Rainfall this weekend should help alleviate the dryness in Missoura and mostly miss Iowa as the system tracks to our south.
Voting:
Good: 25
Bad: 9
Tags: usdm